SE-G5.1 Pro
Introduction
※ This series lithium iron phosphate battery is one of new energystorage products developed and produced by Deye, it can be used to suppport reliable power forvarious types of equipment and systems.
※ This series is especially suitable for application scene of high power, limited installation space, restricted load-bearing and long cycle lift.
※ This series has built-in BMS battery management system, which can manage and monitor cells information including voltage, current and temperature. What's more, BMS can balance cells charging and discharging to extend cycle life.
※ Multiple batteries can connect in parallel to expand capacity and power in parallel for larger capacity and longer power supporting duration requirements.
Description
Lifepo4 Solar Battery: SE-G5.1 Pro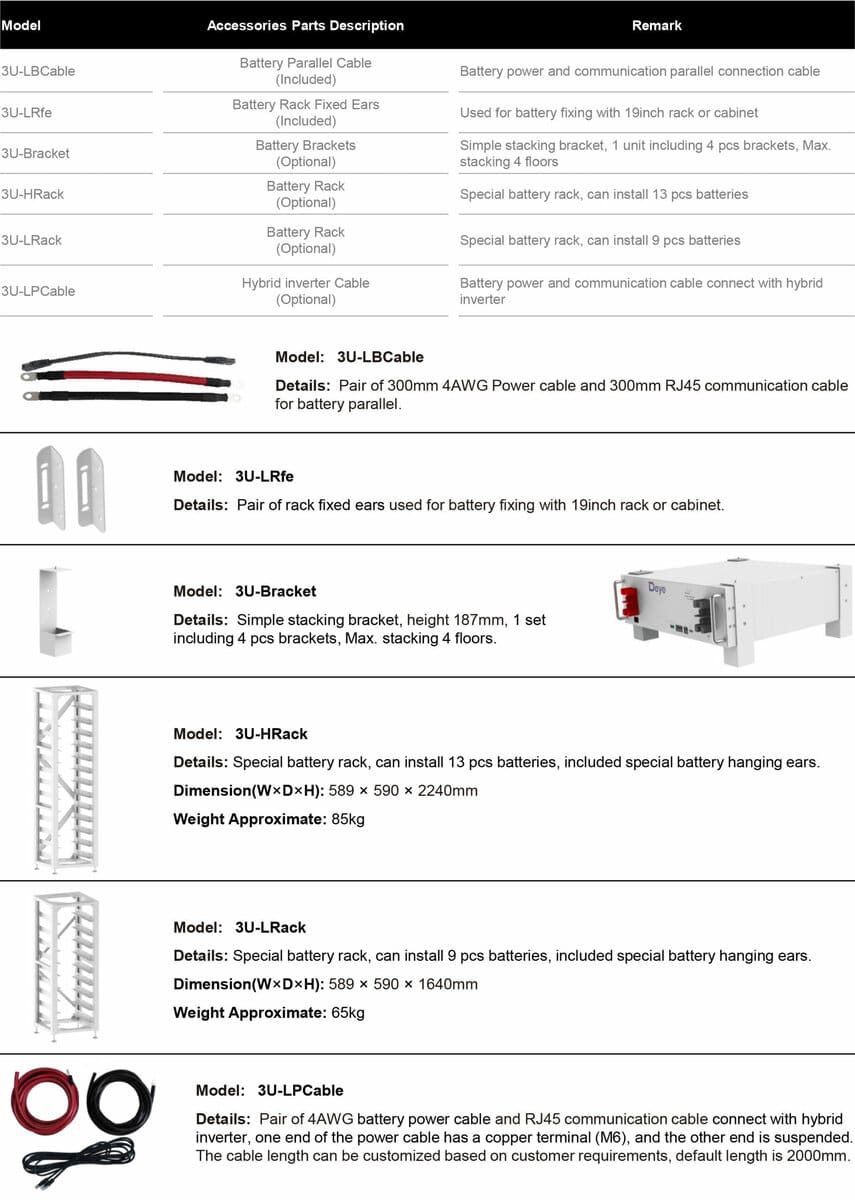 The lithium battery is one of the best options for any battery management system involving solar panels and multiple batteries because they have an excellent power capacity. The lithium setting adequately supports any solar system and has an excellent work performance rate and safety, enhancing the usable capacity. Also, the battery's lifespan is impressive, and it is maintenance-free if the user follows the recommended charging cycle. Also, these are safe batteries compatible with low voltage cutoff systems and nominal voltage ratings.
Lifepo4 solar battery is an abbreviation for lithium iron phosphate battery, which is our company's top-selling battery for any solar system and renewable energy sources in residential homes or commercial places.
Why These Lifepo4 Solar Batteries Sellout Fast
The fast rate at which these solar battery models sell out on the market is due to their impressive usable capacity as lithium batteries. Lead acid batteries have a deep cycle that allows them to function as the best backup power source in different situations. This means that if you have a reliable power source, you can maintain the same capacity with these lithium batteries, even if the regular power level suddenly drops or cuts off.
Therefore, the high demand for these batteries is attributed to the customer's confidence that these lithium battery models can support their existing power source, regardless of what happens in the future. The battery bank can also be scalable. This means the battery bank arrangement can be made in a way that the parallel arrangement of lead acid batteries suits the particular project at that time, preventing overspending.
Where to Buy Original and High Usable Capacity Lifepo4 Solar Batteries
Our company remains the best source of these excellent lithium batteries when you want to buy them in bulk. The lead acid batteries we sell have been made under the most professional conditions and thoroughly tested by the experts before we send them out to the market.
This is why you should avoid having an unpleasant experience with other batteries commonly found on sale on random sites. Instead, send us your order details or contact information via our customer contact form, and we will start the process of sending you the best lead acid battery models to meet your market demand.
Features of the Lifepo4 Solar Batteries
In addition to usability, fully charged, and discharge rate, there are many other features that make these lithium batteries' lifespan so impressive. Here are the top features of these products that make them so unique on the market:
Convenient Weight
The lithium battery weighs only 45 kg, which makes it easy to work with the lithium battery during installation for different projects. The weight also makes it possible to achieve the best arrangement of the AGM batteries to get the desired results.
Depth of Discharge Rating
The percentage depth of discharge rating for these lithium batteries is given as 90%. This is really impressive for this great battery model and one of the reasons why they are always in demand.
It is essential for lead acid batteries to have a high discharge rate, and for these products, it means the battery will only have a discharge rate of 90% in between the full charging cycle, retaining more power and increasing the battery's lifespan.
Working Temperature
The lead-acid chargers have an impressive working temperature range. The charging speed of the batteries is excellent within the temperature range of 0 to 55 degrees. Also, the discharge rate is perfect within a temperature range of -20 to 55 degrees. This is an ideal working temperature condition that supports the deep cycle features of the batteries when set up to support solar systems.
In addition to that, it is best to keep the battery bank at a storage temperature of 0 degrees to 35 degrees. This ensures that deep cycle expectations are met, and terminals are not compromised during storage.
Also, the humidity conditions best for this battery are from 5% to 95%. Following these specifications will ensure the battery lasts longer.
Working Altitude
Another reason why these batteries have excellent performance and are highly demanded is their ability to function effectively at high altitudes. These batteries are ideal for use in altitudes as high as 1900 m. At such freezing temperatures, there is no risk of a power cut-off or other grid issues which can cause the products to malfunction.
However, it is best to hire an expert to assess the entire project and installations before proceeding.
Enclosure IP Rating
To increase the lifespan and ensure no compromise happens during shipping, buying batteries with an excellent IP rating for the enclosure is essential. The IP rating simply means the enclosure is secure enough to prevent dust from ruining the products inside.
The IP enclosure rating for these lithium iron batteries is given as IP20. This is why we encourage everyone to order their batteries in bulk, regardless of location.
System Nominal Voltage
While these batteries have an operating voltage of 43.2 v to 57.6v, we are also happy to write that it has a nominal voltage level of 51.2 %, which is excellent for the maximum performance of the power setup.
The voltage capacity also supports the overall energy generation of 5.12 kW, while the batteries have a usable energy level of only 4.61 kW.
Scalable Installations
Customers can buy any quantity of lithium batteries they need for projects because they can be arranged into scalable groups. The maximum battery pack can accommodate 64 batteries, producing up to 327 kW in a parallel connection. There is also a 32-group arrangement for smaller projects.
Affordability
You can purchase these quality and low-maintenance batteries at an affordable cost, regardless of the number. The customer reviews are excellent, and the lead time is suitable for anyone interested in ordering these batteries in bulk.
Additional information
Battery Chemistry

LiFePO4

Battery Module Capacity (Ah)

100

System Nominal Voltage (V)

51.2

System Operating Voltage (V)

43.2~57.6

Scalability (Max.in 1 battery group)

Max. 64 pcs pack (327kWh) in parallel (Max. 32 pcs no external setup)

Energy (kwh)

5.12

Usable Energy (kwh) 

4.61

Charg/Discharging Current (A)

Recommand: 50, Max: 100, Peak (2 mins, 25℃): 150

Depth of Discharge (%)

90%

Dimension (W×D×H, mm)

445×133×430

Weight (kgs)

45

Master LED Indicator

5LED (SOC: 20%~100%), 3LED(working, alarming, protecting)

IP Rating of Enclosure

IP20

Altitude

≤2000m

Working Temperature

Charge: 0~55°C/Discharge: -20~55°C

Storage Temperature

0°C ~ 35°C

Humidity 

5%~95%

Cycle Life

≥6000@25±2℃,0.5C/0.5C, 80%EOL

Installation Location

19-inch standard cabinet, cabinet depth 600mm / with rack

Communication port

CAN2.0, RS485

Warranty

10years

Life Cycle Power During Warranty Period

22MWh@80%EOL

Certification

UL1973, IEC62619, IEC61000, CE, UN38.3

Safer

Cobalt Free Lithium Iron Phosphate (LFP) Battery: Safety and long lifespan, high efficiency and high-power density. Intelligent BMS, providing complete protection.

Reliable

Support high discharge power, IP65, natural cooling, wide temperature range: -20℃ to 55℃.

Flexible

Modular design, easy to expand, Max.64 units in parallel, Max. capacity of 327kwh.
Suited to residential and commecial applications for increasing the self-consumption ratio.

Convenient

Battery module auto networking, Automatic IP addressing, Easy maintenance, Remotely monitoring and upgrade, Support USB drive upgrade the firmware.

Eco-Friendly

Use environmental protection materials, the whole module non-toxic, pollution-free.
Request Quote
"*" indicates required fields