Best Ducted Whole House Dehumidifier with Pump
Deye's desiccant dehumidifier has the advantages of efficient dehumidification and energy saving regeneration. Features low temperature operation.
Description
Working Principle for low temp desiccant dehumidifier
…………………………………………………………………………………………………………………………………………………………………………………………….
The core structure of the desiccant dehumidifier is a rotating wheel, which is made of special composite heat-resistant materials, and is a honeycomb wheel containing hygroscopic agent. The honeycomb wheel has the characteristics of large hygroscopic area, small flow resistance and high dehumidification efficiency.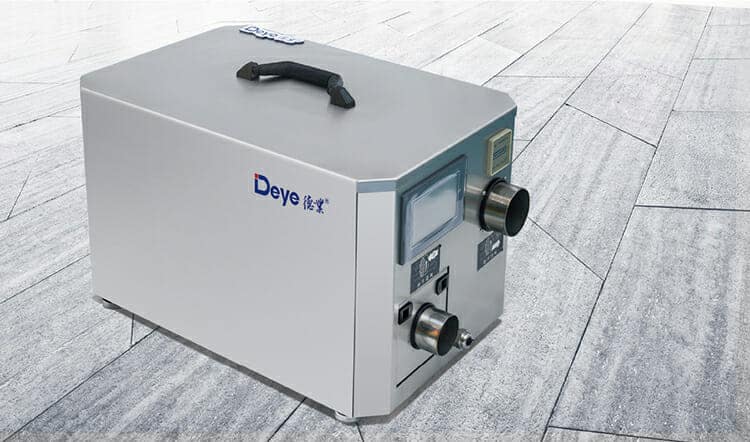 Functional Characteristics
…………………………………………………………………………………………………………………………………………………………………………………………….
Main Body
The whole machine is made of 304 stainless steel with rubber and plastic insulation material attached inside.
Fans/Motors
Fans, motors are adopted strict quality standards of the world famous products.
Filter
The standard filter of unit equipment is AAF laminated primary filter. The filter medium is non-woven or heatbonded chemical fiber filter material, with filtration efficiency G4(80-90% weight efficiency). Can be repeatedly cleaned.
Wheel Dehumidification Section
The key part of dehumidification adopts silica gel and molecular sieve rotating wheel imported from Proflute, Sweden, which has the characteristics of large hygroscopicity, deep hygroscopicity and good combination strength of hygroscopicity agent and fiber, and its service life is as long as more than eight years.
The unique self-tensioning device and contact sealing system of the wheel drive structure effectively guarantee the effective and reliable operation of the wheel.
Control System
Choose the world class temperature and humidity transmitter, according to the feedback parameters of automatic operation and ensure the control accuracy.
If you are tired of the damp, musty smell around your house, a dehumidifier is a great solution. The best ducted whole house dehumidifier with a pump can improve your home smell and create a better life for your and your family.
Designed with Convenience in Mind
The whole house dehumidifier with pump design for easy access during maintenance. The gravity drain and external pump drain option ensure worry-free drainage.
It is also made with heat-resistant materials and a honeycomb wheel containing a hygroscopic agent. These properties allow a high dehumidification efficiency.
The touch control system can adjust the dehumidifier to your ideal moisture setting and maintain preset humidity levels. The automatic shut-off and on system goes off when it reaches the set humidity and starts working again when the humidity is above.
Large Water Removal Capacity
The best ducted whole house dehumidifier with a pump has a large water removal capacity of about 30 gallons per day. It is equipped with a quality carrier handle that facilitates quick and easy movement.
Modern Design
It is uniquely designed to suit the modern consumer. It comes with the best features such as low-temperature operation, auto defrosting system making it ideal for your home and basement.
The modem internal pump automatically removes collected water from the dehumidifier preventing downtime due to a full water bucket.
The whole house dehumidifier with a pump is designed to automatically restart when power is restored. It can function using the previous settings before the power outage saving you the stress of resetting your dehumidifier.
Automatic Defrost
An efficient defrosting process makes the best ducted whole house dehumidifier function at a low temperature if frost is detected on the coils. The automatic defrost cycle prevents frost build-up and issues associated with the build-up.
This ensures a smooth and seamless unit operation without periodic stops during the defrosting process, saving energy and making it last longer.
Real-Time Monitoring
You can set your best ducted whole-house dehumidifier to your preferred moisture setting and allow it to run its continuous cycle. It comes with a display button that will enable you to monitor the continuous cycle, display inlet/outlet temperature, and track jobs hours.
Energy Saving
If you want a device that can help minimize energy consumption in your home, you must go for our dehumidifier. The whole house dehumidifier with a pump requires minimal electricity to function optimally. Our manufactures ensure this product is without unnecessary functions that can result in more power consumption.
Easy to Move
The best ducted whole house dehumidifier with pump is portable with a sleek modern look. It has one sturdy handle that allows you to move it around. So, you can conveniently move your dehumidifier from one room to another.
Warranty
The best ducted whole house dehumidifier is made from quality materials to guarantee a long-lasting usage. You get your money's value when you buy the whole house dehumidifier and also enjoy tech support. Contact us if you have any questions or want to place an order. Our representatives will respond to you within a short time.
Additional information
| | |
| --- | --- |
| Model | DY-ZL100 |
| Extraction | 0.48kg/h |
| Power Supply | 220V/50Hz |
| Power Consumption | 750W |
| Air Volume | 91m3/h |
| Noise Level | 40dB(A) |
| Operating Temperatures | -20°C-40°C |
| Net Weight | 17.5kg |
| Product Size (W×D×H) | 345 × 265 × 370 mm |
Request Quote
"*" indicates required fields